The U.S Food and Drug Administration (FDA), along with Centers for Disease Control and Prevention (CDC) and state and local partners, are investigating a multistate outbreak of Salmonella infections linked to certain Jif peanut butter products produced at the J.M. Smucker Company facility in Lexington, Kentucky.  
The manufacturer has voluntarily recalled select Jif® peanut butter products sold worldwide due to potential Salmonella contamination. The FDA maintains a list of associated products also being recalled that have used Jif peanut butter as an ingredient in the manufacture of a new product (e.g., chocolate products) or in repackaging the product (e.g., snack cups). This list will be updated as the FDA receives notification of new recalls.
Salmonella bacteria when ingested can cause fever and mild to severe gastroenteritis symptoms in people 6 hours to 6 days after infection and usually last 4 to 7 days. Symptoms can be more severe and sometimes fatal in young children, frail or elderly people, and those with weakened immune systems. 
Recalled peanut butter products were distributed nationwide in retail stores and other food supply outlets. University food establishments were notified and have removed recalled products from service/sale.
What should consumers do?
Check the lot code numbers printed on the labels of Jif® peanut butter products in their home. Recalled peanut butter products include lot codes 1274425 – 2140425, only if the first seven digits end with 425.  Lot codes are included alongside best-if-used-by date as shown in the example below.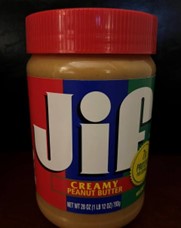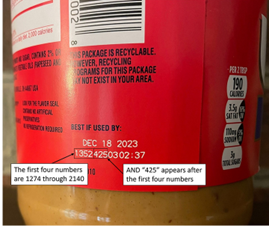 Discard any Jif product found with the recalled lot codes, and wash and sanitize surfaces and utensils that could have touched the peanut butter.
Check their home for recalled associated products that have recalled  Jif peanut butter as a component.
If you or someone in your household ate recalled peanut butter and have symptoms of salmonellosis, please contact your healthcare provider. Symptoms include diarrhea that can be bloody, fever, chills, stomach cramps or pain, nausea, and occasionally vomiting.
Never feed recalled peanut butter to pets or other animals, including wild birds.
Additional information can be found on the CDC and FDA recall and FDA outbreak investigation websites.