What You Need to Know
Three broad categories of NIR electromagnetic spectrum are:
Optical radiation (100 nm-1 mm) - ultraviolet (UV), visible and infrared
Microwave radiation (300 GHz to 300 MHz)
Radiofrequency and lower frequency radiation (300 MHz to Static Fields)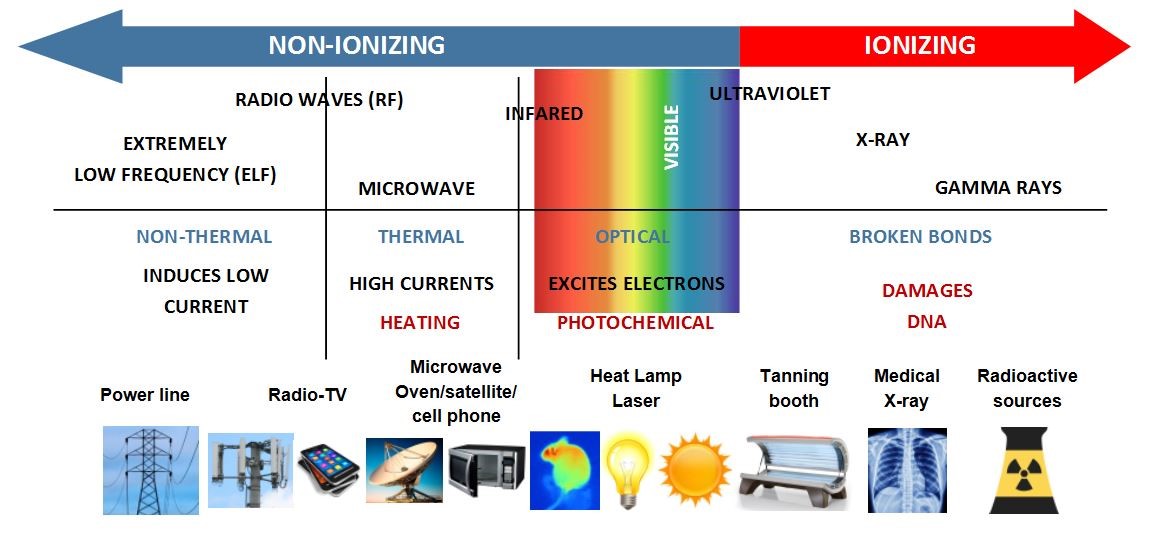 There are many sources of non-ionizing radiation within the University such as nuclear magnetic resonance, magnetic resonance imaging, nuclear fusion research, furnaces, microwaves ovens, UV lamps, fluorescent objects, induction heaters, transmission generators, Wi-Fi, mobile phones, cell antennas and more. Very few of these will actually pose a significant risk during use.  
Sources of non-ionizing radiation that pose a risk are generally associated with a specific research project or only pose a risk during maintenance activities when existing controls are removed or modified.
For more information, please see the NIR Safety Manual for guidance in maintaining a safe work environment when using NIR.
Laboratories using ultraviolet (UV) equipment (e.g., transilluminator, gel documentation equipment, biosafety cabinet, crosslinker or curing light) should be provided with the following personal protective equipment (PPE):
Appropriately rated safety glasses, goggles, or face shields
Long-sleeved clothing to protect arms, hands and neck  
Gloves
For more information, please see the UV Safety Focus Sheet and the Guide Protecting Workers from UV Radiation.
EH&S does not survey household-type microwave ovens for leakage as most microwaves have intact doors and door seals that do not produce excessive microwave leakage.
The following control measures or care must be taken while using microwaves:
Do not use a metal stirrer or plastic-coated magnetic stirrer bars, aluminum foil wires, cables in a microwave oven.
Do not attempt to heat flammable liquids or solids, hazardous substances or radioactive material in a microwave oven.
Do not heat sealed containers; pressure can build up can cause an explosion either in the oven or shortly after removal.
Do not use plastic containers in a microwave oven.
Do not overheat liquids in a microwave oven. It is possible to raise water to a temperature greater than the normal boiling point; when this occurs, any disturbance to the liquid can trigger violent boiling that could result in severe burns.
No unauthorized repairs on a microwave oven. If a unit is suspected to be malfunctioning, disconnect it from the power supply, remove it from service and label it with an appropriate tag while awaiting repair or disposal. Any irreparable microwave oven should be rendered inoperable by removal of the plug and cord before disposal.   
If the door hinges, latch or seals are damaged, it is safer and cheaper to replace the entire unit.
Radio frequency (RF) generating devices at the UW are most commonly used for telecommunication purposes (e.g., mobile phones, base stations, Wi-Fi, radio transmitters or wireless antennas).  
Wireless antennas, when active, produce radio frequency (RF) radiation which is regulated by the Federal Communications Commission. Wireless antennas (or RF emitters) have been recently installed across campus rooftops. These antennas have posted warning signs with restricted access and may require RF Safety Awareness Training and authorization from EH&S Radiation Safety prior entering.
For more information, please see the RF Safety Exposure Categorization sheet for control measures and required signage for each exposure category.
Static magnetic fields are created from a fixed magnet or magnetic flux resulting from the flow of electric current. The greater the current, the stronger the magnetic field. Instruments that generate large static magnetic fields such as nuclear magnetic resonance (NMR) spectrometers and magnetic resonance imaging (MRI) scanners are commonly present in research laboratories.  
Objects made of ferrous materials such as steel can become a projectile when it is pulled rapidly toward the strong magnet and result in a hazardous situation or injury. Therefore, objects such as keys, scissors, knives, wrenches, oxygen cylinders and other ferromagnetic objects must be prohibited from the immediate vicinity of the magnet. In addition, anyone wearing cardiac pacemakers, metallic implants, and other electronic or electromagnetic prosthetic devices should be kept away from strong electromagnetic sources.
Superconducting magnets use liquid nitrogen and liquid helium coolants, to maintain the magnet coils in their superconductive state.  Hence, precautions associated with the use of such cryogenic liquids must be observed as well.  
For more information, please see the Safe Handling of Cryogenic Substances Focus Sheet and Superconducting Magnets: Basic Safety Focus Sheet.