The 2021 Laboratory Safety Awards & Innovations Event honored 20 labs, departments and individuals to recognize their significant contributions to enhancing the culture of safety at the UW.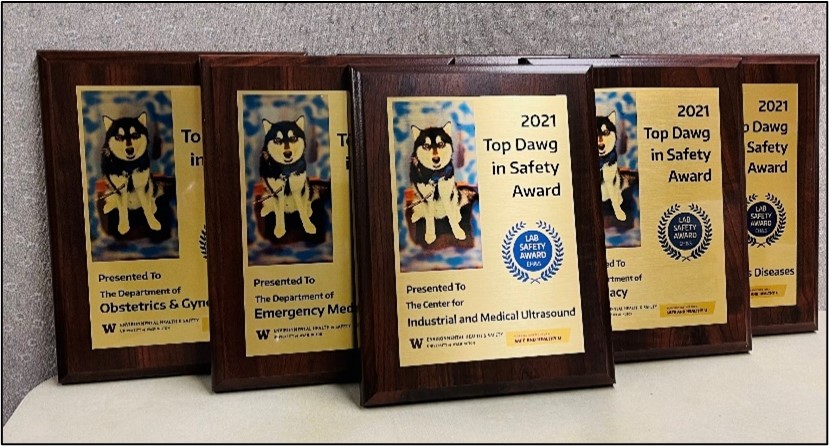 Katia Harb, senior director of EH&S, gave the opening remarks for the event. Provost Mark Richards was one of the guest speakers, and Dr. Forrest Michael, the current chair of the Institutional Chemical and Physical Safety Committee (ICAPS), gave the closing remarks.
Several guest speakers from the UW's research community talked about the role safety plays in their work.
Zackary Herbst from the Chemistry department talked about their efforts to improve management of and safety practices for the 5000+ chemicals in their lab, which is no small feat.
Kelsie Abrams and Katie Anderson from the Burke Museum talked about the challenges of conducting research work safely in a public space, and how their work contributes to expanding people's perceptions of what a researcher or scientist looks like.
Stephanie Harrington, the associate dean for College of the Environment, spoke about effective strategies for improving safety culture in their departments and work environments.
View the slides from the guest speaker presentations.
The Laboratory Safety Awards & Innovations Event is an opportunity to recognize groups and individuals who have initiated practices or tools to improve safety in their workspaces. EH&S hosts the Laboratory Safety Awards & Innovations Event every two years. UW researchers and personnel who work in a lab can submit their own innovations directly to EH&S for recognition; in addition to the safe work practices that are noted during EH&S visits to labs. The innovations are displayed during the event and summarized on posters, which can be accessed through our website. We provide them for reference and to inspire others to enhance their own practices.
To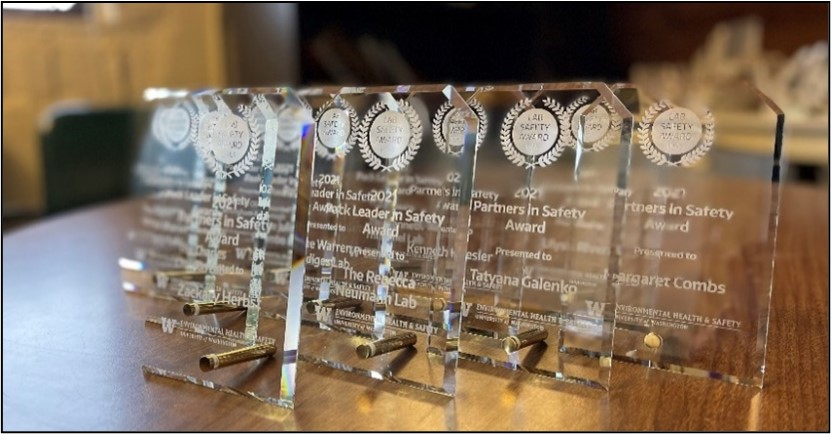 p Dawgs in Safety Awards were given to departments from various schools and colleges who are meeting safety expectations. Pack Leaders in Safety Awards were given to principal investigators or responsible parties and their research groups. This included groups from all three UW campuses.
The Partners in Safety Award was a new category this past year. These awards were given to individuals who are not principal investigators, but they are UW personnel who work in a lab or who conduct work to support labs. Their efforts contribute to the improvement of safety in research spaces and they engage with EH&S in a collaborative spirit.
The award winners were announced in November 2021 and are listed on the EH&S website.
We missed the opportunity to congratulate our award winners and innovators in person (due to the pandemic), but we had fun seeing photos submitted by participants during the online event. There were 125 attendees, including research students, faculty, and staff, chairs, chancellors, department administrators, deans, and the Provost.
EH&S received many notes of thanks and positive feedback about this year's event, and it was great to see the enthusiastic response from our research community. Congratulations to all of the award winners and innovators!