On June 1, 2018, a UW employee was releasing chains holding a 20-foot shipping container on a trailer when the cheater bar on the lever load binder sprang loose with excessive force. The employee received a minor head injury.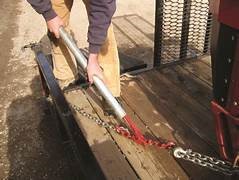 Chains used to restrain loads during transportation require a tool to tighten and loosen the chains called a load binder. Lever-type binders can require a large amount of force to engage and it can release the full force of energy stored all at once. A cheater bar is often used to help overcome the force required to release the load binder.
The UW employee had years of experience with releasing chain binders and understood the risk involved; however, the chain was tighter than he had ever experienced and his injury could have been much more severe. According to the employee, "the previous chain binder I released tossed the cheater bar some 15 feet in the air. I was trying to stay to the side [but] I had to get in real close to have enough strength to release the binder. The speed of the cheater bar had not reached full speed when it hit me in the head. Not even close to full speed."
The following causal factors led to this incident: 
The chains restraining the load were very tight.
A lever-type load binder and cheater bar were used to release the chains, which increased the risk of injury when an unexpected release of stored energy occurred.
The employee was leaning toward the cheater bar to provide additional leverage to overcome the force required to release the chain restraint.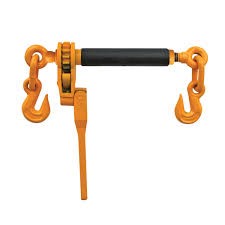 Lever load binders and cheater bars have been implicated in a number of serious injuries, head and face injuries, and fatalities. Therefore, the impacted department will replace all lever load binders with the safer ratchet-type load binders. Ratchet load binders require less force to engage and allow for the restraints to be gradually released.
To reduce the risk of injury, implement these safe work practices:
Substitute synthetic straps for chains or use barriers (e.g., pins, pegs, posts) to restrain loads.
Use a ratchet load binder to engage restraints.
To avoid ergonomic-related injuries, operate load binder below shoulder height, and keep wrists straight.
Do not rush while ratcheting.
Always wear gloves.
Conduct a job hazard analysis and develop procedures for restraining loads. Train all affected workers.
Remember to report all accidents and near-miss incidents using the UW's Online Accident Reporting System (OARS) within 24 hours.
We are sharing this information to support our continuing effort to promote a culture of safety and to prevent future serious incidents. Please share this alert with anyone you think would benefit from this information.