Important Notification
Please note the table below was updated with additional lot codes on February 11 and an additional model on February 18, 2021.
The University has been notified that counterfeit 3M respirators have been sold to governmental agencies, hospitals, and other institutions in several states, including Washington state.
3M issued two Counterfeit Alerts (for Models 1860, 1860S, 1870+ and Model 8210) notifying customers of the 3M respirator models and lot codes that have been identified as counterfeit (shown in table below).
Please review your inventories to identify if any of the affected N95s are in your possession. If so, do the following:
Collect and remove them from service immediately.
Place them in a box or container that is labeled "DO NOT USE."
Notify the Environmental Health & Safety Department (EH&S) Respirator Program Administrator, Brandon Kemperman at uwresp@uw.edu and report the lot and model numbers, quantity, and vendor used to purchase them. Based on the information collected, EH&S will provide you with additional guidance.
Counterfeit Models and Lot Codes
New lot numbers added on 2/11/21 are shown in bold; new model and lot codes added on 2/18/21 are highlighted in yellow.
Name
Model 
 Lot Codes

3M™ Particulate Respirator (N95)

 8210

 17284, 49260, 49082, 5100, AAC078, A10062, A13091, A14098, A19264,
A19290, A20016, A20043, A1C078, B15060, D17076, R10335, R19067, R19144

3M™ Healthcare Particulate Respirator and Surgical Mask

1860

B19029, B19063, B19206, B19240, B19130, B19133, B19155, B19161, B19206, B19314, B20010, B20013, B20016, B20018, B20020, B20021, B20022, B20025, B20060, B20119, B20235, B20245, B20281, B20670, R20025, R20102, R20144, R20150, R20183, R20190, R20294, R20328

3M™ Healthcare Particulate Respirator and Surgical Mask

1860S

B20020, B20522, B20659, B20670, B20679, R20522

3M™ Aura Healthcare Particulate Respirator and Surgical Mask

1870+

C193041, C190241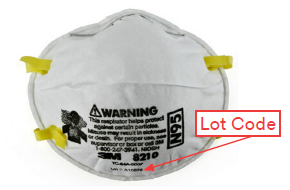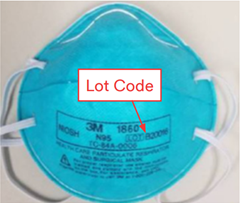 For more information about identifying counterfeit N95 respirators, see the CDC/NIOSH Alert (https://www.cdc.gov/niosh/npptl/usernotices/counterfeitResp.html).
Check the 3M Fraud alert website (https://www.3m.com/3M/en_US/worker-health-safety-us/covid19/covid-fraud/) for additional information.